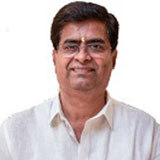 Greetings to one and all !!
Dear Readers,
At the outset I want to express my gratitude to all members of FCBM, for entrusting me with the responsibility of leading our Federation as President during this year. I am both honoured and excited with this opportunity.
As members of FCBM - which indeed is the 'Family of Corrugated Box Manufacturers of India', we have to move in unison to fulfil the goals and aspirations we will set for ourselves this year.
By way of our technical programmes, new market development programmes, R & D activities amongst others I want to reach out to each and every member spread across the length and breadth of our country.
Our mutual interactions in our various programmes, at annual conferences and these days even on digital platforms like our newly launched FCBM Connect App will strengthen our bonds and demonstrate our commitment to our work in the industry and our confidence in the future of our industry.
My predecessor Shri. Pradip Bosmaya had set high-performance records that has made my tenure challenging and taking inspiration from his work I will spare no efforts in making our Federation an industrial body that others will look to emulate.
Another very popular programme initiated by Shri Pradipbhai and very aptly conducted by our Seminar and Workshop SubCommittee - Full -time Comprehensive Course in Corrugated Packaging a 2-day course, has been very well received by all our members. We are continuing with the same and it gives me great pleasure to inform all of you that we will be having our next course on 4th & 5th January in Ahmedabad, Gujarat. The response from GCBMA had been very encouraging.
Along with your enthusiastic participation in all the activities of our Federation as well as our regional associations I would also seek your support to increase our
membership base. I look forward to engaging with each one of you and to draw on your expertise to set yet another benchmark in the history of our Federation, this year.
I have tried to infuse some new members within the subcommittees. In order to harness the energy of our talented and dedicated young corrugator members I have tried to give adequate representation to youth with a healthy blend of experienced minds. I am confident they will deliver on every count. Please extend your whole hearted support and cooperation to them.
Finally, with a slew of state elections concluding, I hope there is a general upswing in our economy and we will all gain by momentum building up in the Indian industry.
Sincerely Yours
K. Arunachallam
President